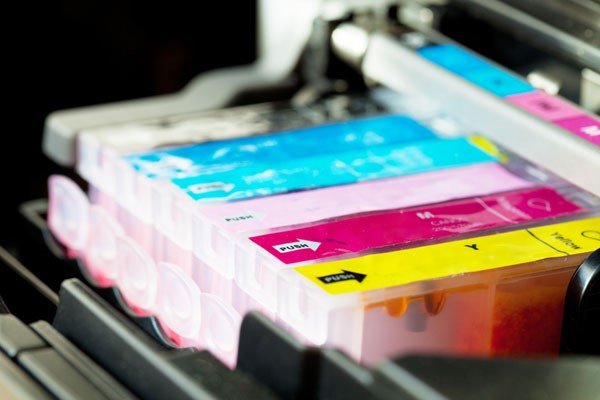 When you're looking for a new printer, it's important to work out which model your business can afford to run in the long term. It's easy to forget that that a printer is not a one-off cost, but rather a continuous investment. Printers rely entirely on ink and toner consumables to function, and these do run out from time to time.
When buying printer ink or toner, there are a couple of things you need to know first, in order for you to get the most out of your money and buy the correct consumables for your device.
What is the difference between ink and toner?
A common question when it comes to ink and toner is: are ink and toner the same? Well, the answer is no. In fact, whilst ink and toner are used for the same purpose, they are incredibly different and operate in different ways.
Ink cartridges – also known as inkjet cartridges – are used, unsurprisingly, in inkjet printers. They function by using liquid ink which is then released onto the page. They come in either single or block colour cartridges, which we'll cover in a moment.
Toner is used in laser printers, and these cartridges function in a more complex way. Instead of a liquid ink, they use a dry powder which bonds to the paper to make the print. Because they bond the image or text to the paper, they are usually considerably longer lasting and have a higher page yield.
Ink Cartridges
If you've settled on an inkjet printer, one of the first things you need to do is take a look at the advertised capacity of its ink cartridges. This will give you an indication of how many printouts you should expect to produce before it runs out.
Finding out the number of printouts that each cartridge should produce will give you a general idea of what the running costs of the printer are, and whether or not this is within your budget.
If you're hoping to find the cheapest printer ink that's compatible with your device, by taking cartridge cost and capacity into account you can work out the cost per page, making it easier to make your decision.
It's important to remember that the capacity on the boxes is not an exact figure but an estimate, which is made via industry standard ISO 247111 guidelines. Ink density is the most important factor when determining how many pages can be printed by your cartridge. However, it is a good way to get a feel for the running costs of your printer.
Here at Printerland, we'd recommend using compatible ink cartridges. Using your printer manufacturer's own ink cartridges, should ensure that you don't come across any compatibility issues or suffer poor quality printouts as a result.
The number of pages a cartridge can produce is usually based on a standard 5% coverage.
Single colour cartridges
Many of the best printers utilise the CMYK scale: using magenta, cyan, yellow and key (black) to produce a full colour spectrum.
Some printers support single colour cartridges and make it necessary for users to invest in four different colours in order to enable their printer to produce a full palette of colours. These cartridge types are hugely beneficial as they can reduce consumable waste which in turn makes them more cost-efficient. Individual cartridges run out, and only one cartridge needs to be replaced at a time.
Block colour cartridges
Printers that support block colour cartridges usually have the capacity to support only two cartridges, with one space reserved for black, and the other for cyan, magenta and yellow.
The latter cartridge needs replacing when just one of the colours run out, leading to wasted ink and increased costs.
On the plus side, block colour cartridges can be one of the most efficient consumables for home printers, which don't regularly require colour prints, due to less replacements being required.
Solid ink
If you're the owner of a solid ink printer you may be aware that the ink cartridges melt within these devices, which means that printing quality is more detailed.
These cartridges are environmentally friendly and require very little storage space.
Toner cartridges
One of the main components of laser printers is toner cartridges, which work hand in hand with the drum unit.
The cartridge contains both toner powder and colouring agents, projecting the image onto the drums, with the final image replicated on your printer paper.
Toner value packs
If you want to look for a bargain on toner cartridges, you should look for a bundle pack as usually these are discounted in some way.
Combination colour packs can lead to significant savings as time passes.
Consumers who regularly require colour printing will benefit the most from these value packs, especially if they can utilise all cartridges in an intelligent manner and ensure to follow any storage guidelines to keep the toner at its best.
XL cartridges
Some of the most adaptable and versatile printing models have the capacity to support XL cartridges and can ultimately reduce ink costs over time as the capacity cost is less.
From a manufacturer's perspective, less packaging can reduce costs, helping the consumer save money over time when they invest in an XL cartridge.
If you're looking to buy toner cartridges or printer ink online but still have some questions, call our dedicated team here at Printerland for advice.