Kyocera Toner
Whichever Kyocera printer machine you own, we have all the consumables you could need, including Kyocera toner. From printing home family photographs to business documents and professional certificates, we have Kyocera consumables that will work in harmony with your machine and optimise it for the best possible end result.
We would always suggest buying official Kyocera toner cartridges for your machine, as they are specially designed for your printer. Buying an official toner also ensures the best quality of printing and that your product lasts as long as possible. This is due to them being specifically designed to cater to the needs of your branded printer.
Economic Kyocera Toner Cartridges
Kyocera toners provide users with economic benefits as well as being durable and environmentally friendly. This means that alongside benefitting from a high page yield and minimal down time, you'll also receive financial savings and support with reaching your sustainability objectives.
As all of our Kyocera toner products are supplied direct from the manufacturer, you can rest assured that you're receiving the highest quality of product possible. Whether you're printing official client documents for your business, or personal photos for home display, using Kyocera toner will ensure you receive the best service possible.
Please contact us for any further information on our Kyocera range, or if we can support you with any purchasing decisions. Our dedicated team are always on hand to provide you with advice on choosing the best Kyocera toners for your personal or commercial needs.
Recycling Kyocera Toners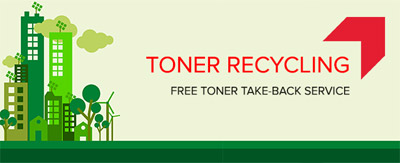 The Kyocera free toner take back service is available to those wishing to recycle their genuine Kyocera consumables. The Freepost service recycling option includes the ability to return items via postal service for home and small office users.
Kyocera's toner cassette returns service enables those who dispose less than 10 empty toners per year to recycle them by completing the form provided on Kyocera's website. Once the relevant fields are filled in and the details are processed, an email will be sent directly which includes an attached free returns label and RMA number.
To use the Freepost Service, simply place the empty consumable you wish to recycle into a durable bag and securely tighten. Boxes provided with new toners, can be reused for packaging up your old toners. When toners are packaged up and ready to return, assign the free return label and RMA number to the box.
Click the following link and follow the simple steps which will allow you to download the freepost labels;Kyocera's Toner Take-Back Service
Kyocera Bulk Toner Take Back service
Finding you have a bulk of toners you wish to recycle? Kyocera's got you covered.
With the choice of boxes in two sizes, toners can be returned in one single process. Kyocera supplies a medium sized box holding 15-20 used toners, or alternative large box which can hold a total capacity of 40-50 toners.
To ensure the consumables are correctly disposed of, the free collection process makes recycling easier than ever before. Once the bags are full, simply visit Kyocera's web portal and arrange collection of the boxes.
Kyocera Toner Technology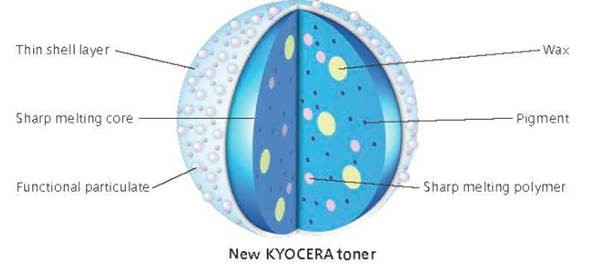 Robustness is the key element of Kyocera's ceramic drum technology. This technological advantage translates to three key points giving advantages to all users.


Kyocera's durable drums do not need to be replaced each time a toner cartridge is spent. The user is only required to replace a simple individual toner cassette, costing much less than replacing an all-in-one print cartridge that contains both toner and drum together.



Waste, which is produced by machines is reduced thanks to sustainability of Kyocera printers. Known for reliability and efficiency, the demand for Kyocera machines continues to evolve.



Due to Kyocera's ability to produce long-life components, their printers continue to run and run without unnecessary downtime for service operations or maintenance tasks.


Innovative Technology
Spherical toner is a newly developed technology made of miniscule particles which are condensed together, resulting in an even and smooth finish to the print, intensifying the image quality.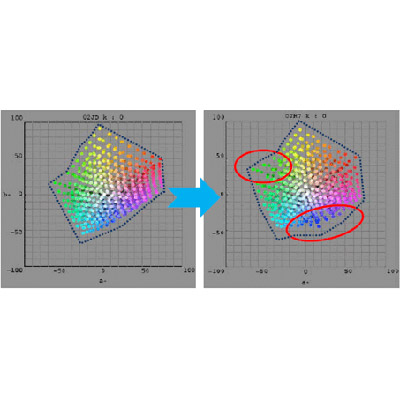 Kyocera's enhancement technology can create more shades of colour whilst achieving a sensational 9,600 dpi image quality through integrated Multibit Technology. Reducing the room for movement of particles is a huge benefit as it boosts print quality by creating a smoother finish and promoting more even coverage.Trapping functionality helps to automatically identifying coloured backgrounds and improves print quality by extracting shadows and highlights from around text.
Energy Savings
Kyocera toner particles are designed with a thin shell surrounding the sharp melting core. This contributes to energy savings as it enables low-temperature fusing and long-term stability.
In traditional print systems, 70% of the overall energy consumption in both multifunctional and single function printers is consumed during the toner fusing process. With the latest Kyocera toner technology this consumption is reduced by up to 50% due to fusing at 30 degrees centigrade less than that of previous generation products.