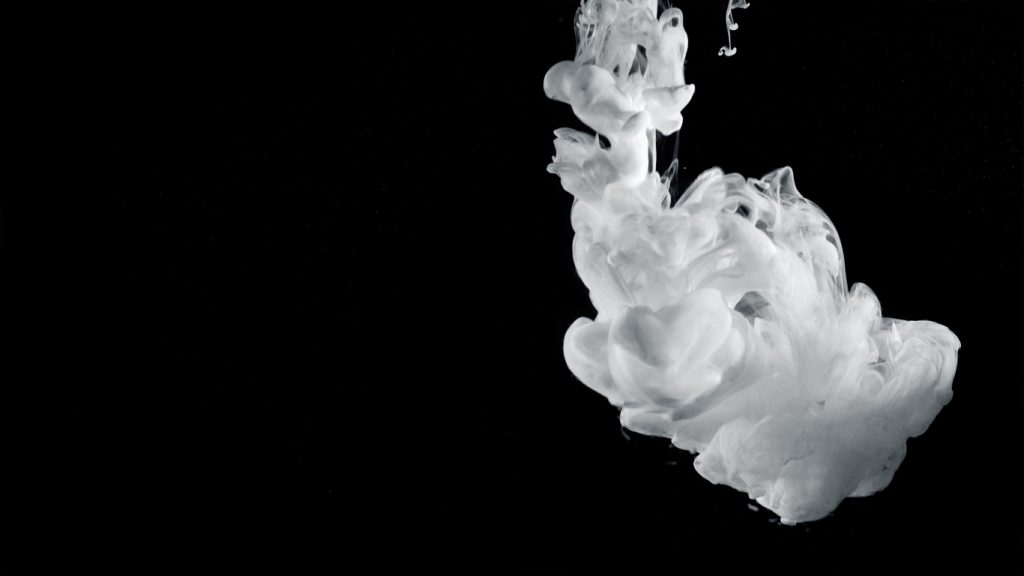 Until recently, it was difficult to print in white without specialist printing facilities due to the limited availability of white ink and toner cartridges and printer models that could accept them. That means that printing in white wasn't really an option for most businesses unless they had a specialist printer setup in the office.
But new advancements in commercial-grade printing technology have made it much more realistic to get a device that can print in white, like the Xerox VersaLink C8000W, for your office. With white ink and toner printers now easily available, a whole new world of commercial printing possibilities has been opened up.
In this blog, we'll cover why printing in white was such an issue until recently, what methods were previously used to produce white text and images, and how you can now take full advantage of printing in white and reap the benefits for your business.
Why is printing in white difficult?
Typically, white ink printing was close to impossible without the use of a specialist printer because of the four-colour cartridge system that most printers use. This system, called CMYK because of the four colours the popular cartridges contain (cyan, magenta, yellow, and black), relies on mixing different quantities of each colour to produce a particular shade.
However, there's no mix of those four colours that can create white printouts. In fact, CMYK printers can't really even get close to white, and are much more suited to printing darker colours on white paper.
How do CMYK printers work?
CMYK printers work by assigning a numerical value for each of the four colours in the cartridge to create a new colour when mixed. For pure white, this value is zero for each of the four colours. A printer interprets this value of zero to mean 'off' (or blank), meaning that any white text or images that you try to print out will be left blank by the printer instead.
So, what does this mean in practical terms? Well, the white you see on your printouts from a CMYK printer isn't ink or toner, but just the background colour of the white page you're printing on. If you're printing on black paper instead, the 'white' in whatever you're printing will actually be black in the physical printout.
How to print in white
To get around the difficulty of printing with white toner, there are two relatively simple but hugely limited methods of 'printing in white' that have been used in the past: using a substitute 'close-to-white' colour or manually filling in the blanks left by a traditional CMYK printer.
Create a white ink effect
You can create a vaguely white ink effect by substituting any pure white in the document or image you're trying to print for a slightly different shade. What you're essentially doing here is tricking the printer into treating the white parts of the thing you're printing as a colour, so that it will be assigned a numerical value, instead of the blank zero value ascribed to pure white.
Fill in the blanks
This method will allow you to achieve a pure white finish but involves significant post-print labour and relies on you printing on non-white paper. In short, once your printed document is ready, you'll have to hand paint the white spots the printer left blank. But this approach isn't really suitable for the office, as you're unlikely to have the time to make touch-ups to your printouts during a busy workday.
White toner printing made easy
While the above methods will help you achieve the appearance of white ink, they're not ideally optimised for everyday users – never mind for offices that need a high-capacity, high-speed printing solution.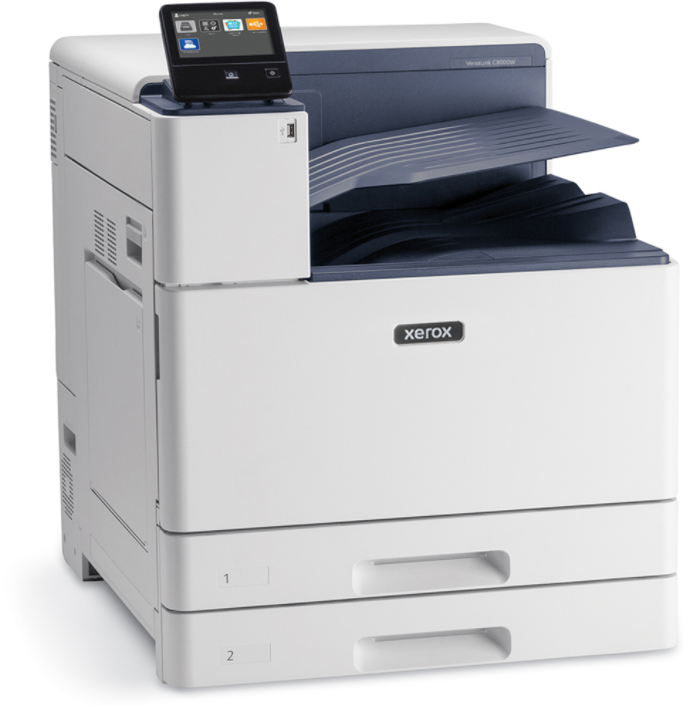 Enter the Xerox VersaLink C8000W, which uses a CMYW (cyan, magenta, yellow, white) cartridge. That means you can print pure white colours on coloured media, perfect for creating eye-catching menus, stunning invitations, window clings, decals, and more without any fuss.
The printing technology that powers the VersaLink C8000W also helps to boost the contrast of the other CMY colours on coloured media, with the ability to print an underlayer of white on the print media, before then using it as a canvas for the actual printout.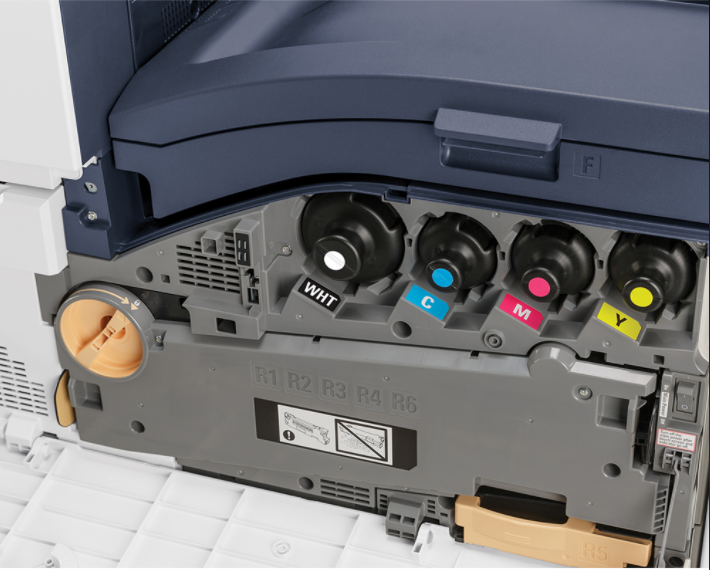 Aside from its pioneering white toner, the VersaLink C8000W A3 printer features ConnectKey Technology, 12 colour media settings, 1200 x 2400 dpi resolution, a substantial media capacity, and much more. It's the perfect choice of printer for an office that wants to create printed media that stands out.
Why would you want to print in white?
Elevating your brand's image and promotional material above your competitors' can be difficult as basically everyone is using printers that work with CMYK cartridges, meaning they're mostly limited to also using white paper. Having the ability to print in white ink or toner, however, means you can use darker media (like black paper stock) as your canvas to help you stand out.
Outside of that benefit, having the capacity to print brilliant white colours can make a huge difference to the appearance of printed images or graphics that include white, even when printed on white paper. Instead of blank spots that the printer misses out, you'll have a fully printed image that boasts better contrast and depth of colour.