Paper Size Guide: A3+ & A4+
The A paper series is one of the most commonly used sizing standards around the world and based on the international ISO 216 standard. This paper format starts from the large base size A0, to the smallest size A13. Two of the most popular and well-known paper sizes are A4 and A3 – but what exactly makes A4+ and A3+ sizes different from the standard sizing?
| | | |
| --- | --- | --- |
| Size | Width x Height (mm) | Width x Height (in) |
| A4 | 210 x 297mm | 8.3 x 11.7 in |
| A4+ | 250 x 337mm | 9.8 x 13.2 in |
| A3 | 297 x 420mm | 11.7 x 16.5 in |
| A3+ | 329 x 483mm | 13 x 19 in |
A3+ Paper
A3+ paper size is often referred to as Super A3 but unlike standard A3, it not an ISO 216 paper size. There are many purposes for A3+ paper with common uses being for graphic design, architecture and for proofing. Because the A3+ size is slightly larger than A3, it allows users to print a full A3 page, with room for annotations and notes. Some A3 printers will also handle A3+, but it is always best to make sure that your desired printer will do everything you need it to.
A printer that supports A3+ media as standard will allow you to print onto A3+ documents with ease – just as easy as a standard A3 or A4 page, whereas other printers can allow you to set up an A3+ document as a custom size.
A3+ Size
An A3+ size page is 329 mm x 483 mm (W x H) and is a slightly oversized version of A3, being 32 mm larger in width and 63 mm larger in height. Please note that A3+ is not always a recognised standard, so manufacturers may have slightly different dimensions.
A4+ Paper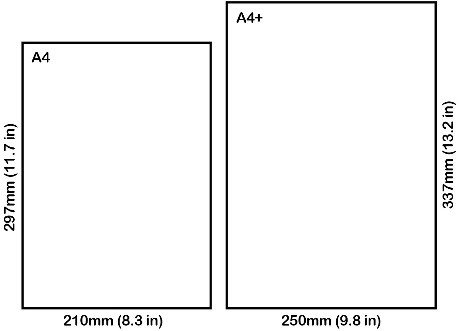 A4+ size paper is also commonly used for design-based work. Due to being an oversized A4 sheet, users will have the space around a full A4 image to write comments and annotate. A4+ is not commonly supported directly as a standard print size, it's most common use is as mounting paper for standard A4 prints. As A4+ sheets are larger than a standard A4 sheet, an A3 printer will be needed when printing on this format.
A4+ Size
An A4+ sized page is 250 mm x 337 mm (W x H) and is larger than a standard A4 page by 40mm in width and 40mm in height.
Best A3+ Printer
The Epson WorkForce WF-7710DWF is an A3+ Colour Multifunction Inkjet Printer which is capable of printing high quality documents up to 4,800 x 2,400 dpi. With a USB, network and wireless interface along with AirPrint and Google Cloud Print compatibility, the connectivity is seamless. Print speeds are available up to 32ppm per mono page and 20ppm per colour page. Other print features include borderless printing, thick media support and a rear speciality media feed for more complex documents.