Genuine Xerox toner is designed and manufactured to deliver quality, reliability and performance. With 27% higher yields than aftermarket alternatives and lower total costs of ownership, Xerox Emulsion Aggregation toner produces superior results when integrated with your Xerox printer. Whether you need prints for publicity materials, business communications or archiving, Xerox EA toner cartridges deliver exceptional results first time, every time.
Xerox toner technology
Intelligent Xerox cartridges are designed to intelligently interface with your printer to provide a range of status updates and alerts that mean you need never run out of ink and impact productivity. For example, using a non-genuine cartridge will result in an error message to protect your printer from potential damage. Manufactured to the highest standard, genuine Xerox toner cartridges will produce optimal quality prints with razor sharp text and outstanding image quality.
The EA toner advantage
Unlike standard toner, EA toner is not crushed but chemically grown to produce minute and uniform spheres. These aggregate during the printing process to use 40% less toner to create exceptional image quality with improved fine lines and text. Any toner that doesn't meet the size standards is recycled back into the manufacturing process, which utilises 25% less energy than conventional toner.
Why is genuine Xerox toner better?
Halftone algorithms, internal colour tables and the voltage charge used by the imaging drum are all optimised with Xerox toner for outstanding results. It's this attention to detail, seamless integration between components and intelligent use of technology that makes safe and non-toxic Xerox toner cartridges the smart choice to protect your printer and create the best possible image quality.
Xerox Green World Alliance
Every year, £1 million of post-consumer toner waste is recycled back into the manufacturing process. Genuine Xerox toner cartridges can be recycled through the Green World Alliance using the cartridge return programme.
Using Genuine Xerox toner ensures consistent, quality prints are produced for every page your Xerox printer churns out. Tried and methodically tested, Genuine Xerox toner supplies have been proved to be reliable and deliver an exceptional 27% higher page yield than aftermarket options.
Innovative Xerox Technology
Loaded with genuine Xerox supplies, Xerox machines monitor the page count of each individual cartridge. Not only that, you can be notified when a Xerox toner cartridge is nearly expended. Being notified when a cartridge is low on toner ensures that users don't experience downtime and toners can be purchased in advance of the cartridge running out.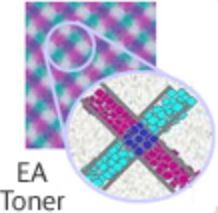 Xerox Emulsion Aggregation Toner
Xerox takes credibility in the development of advanced toner technologies and EA toner is an outstanding breakthrough. EA toner is grown chemically to produce a consistent and small-scale particle, using 25% less energy to manufacture. A range of benefits are associated with EA toner, some of which include enhanced image quality, lighter toner cartridges due their small compact design and lastly an increase in device reliability and the lowering of service costs.During the development of Xerox toners, halftone algorithms, voltage charge and internal colour tables which are incorporated into the toner are all optimised ensuring quality print output is produced. Each toner carefully manufactured by Xerox is formulated for each individual printer to allocate the best image quality and authentic operation therefore maximising both performance and quality of output.
Environmentally Friendly
Xerox's focus is to create products, packaging and supplies which make cost-effective use of resources. The aim is to limit waste, reuse material when achievable and recycle the parts which can't be reused. Xerox introduced a supplies recycling program named Xerox Green World Alliance. The growing responsibility and commitment to recycling has achieved a high volume of cartridges and toners being returned, enabling them to be recycled or reused effectively.