Xerox Phaser 7100N A3 Colour Laser Printer
7100V_N | UK's Best Selling A3 Laser Printer
UK's Best Selling A3 Laser Printer

14 Day Trial - Call 0800 840 1992 to arrange

1200 x 1200 dpi Print

USB & Network

9 seconds First page

Up to 30ppm Colour Print

Up to 30ppm Mono Print

Adobe PostScript 3 & PCL 5/6c

250 Sheet Input Tray

150 Sheet Bypass Tray

667 MHz Processor

1GB (2GB Max) RAM

Windows & Mac Compatible

optional HDD
Phaser 7100 PC Mag Review

Xerox Phaser 7100/N

BY TONY HOFFMAN
The Xerox Phaser 7100/N is a new model in Xerox's repertoire, filling a niche as a relatively low-cost color laser printer that can print at up to tabloid size (11 by 17 inches). In that role it's a winner, with good speed and strong output quality, led by above-par graphics and slightly above-average photos. It earns an Editors' Choice for budget color laser printer.

The 7100/N lacks the natural-language color control of the Editors' Choice Xerox Phaser 7500/DN and is not designed for as massive print volumes--with a maximum monthly duty cycle of 52,000 pages, compared with the 7500/DN's 150,000 pages. It can't quite match the 7500/DN's exceptional output quality. But it brings enough to the table to become an Editors' Choice in its own right as a lower-priced tabloid color laser printer.

The two-tone (blue and white) 7100/N measures 16 by 21 by 19.7 inches (HWD) and weighs 97 pounds, so you'll need at least two people to move it into place. Still, it's lighter than the 145-pound Xerox 7500/DN. The 7100/N has a 400-sheet standard paper capacity, between a 250-sheet main tray and a 150-sheet secondary tray, both of which can fit tabloid-size (11 by 7) paper. The 7100/N lacks an automatic duplexer; another model, the 7100/DN includes a duplexer. Up to three additional 550-sheet trays are available as options, as is a wireless adapter, and a productivity kit whose centerpiece is a 40GB hard drive.

The Xerox Phaser 7100/N has standard Ethernet and USB connectivity. I tested the Phaser over an Ethernet connection with a PC running Windows Vista. The recommended driver, which installs by default, is PostScript; users can also install PCL emulations, PDF Direct, or XPS drivers. I ran all our tests using the default PostScript driver.

Speed
I timed the Xerox Phaser 7100/N on the latest version of our business applications suite (as timed with QualityLogic's hardware and software), at 7.6 effective pages per minute (ppm) a good speed considering its rated print speed of 30 ppm. (Rated speeds are based on text-only printing, while our test suite combines text pages, graphics pages, and pages with mixed content.) It even edges out the Xerox Phaser 7500/DN, rated at 35 pages per minute for both color and black-and-white printing, which we timed at 7.1 ppm. I clocked the Dell 7130cdn Color Printer rated at 35 ppm for monochrome printing and 30 ppm for color printing, at 8.3 ppm.

Output Quality
The Phaser 7100/N's text was average for lasers, which is still good enough for most every business document except for uses such as demanding desktop publishing applications requiring very small fonts.

Graphics quality is above par; graphics should be fine for any internal business use, including PowerPoint handouts, and could be used for basic marketing materials. Flaws, all minor, included some mild blotchiness in dark backgrounds, and dithering (graininess).

Photo quality was slightly above average. Most of the prints could pass as true photo quality when seen under glass at arm's length. There was some loss of detail in bright areas, and one image showed traces of banding (spurious, slightly dark streaks). The quality is easily good enough to use in company or client newsletters, and is perhaps up to use in basic advertising handouts, depending on how picky you are.

Comparison
As a budget color laser that can print up to tabloid size, the Xerox Phaser 7100/N offers good speed and good overall output quality, with above-average graphics and slightly above-par photos. The 7100/N lacks natural language software color control, one of our favorite features from the Xerox 7500/DN. Accessible through the printer's drivers, it lets people with no technical knowledge of color mixing easily tweak colors from print to print by using a series of drop-down menus, with commands such as "green colors slightly more green."

The 7100/N's output quality—though solid, with particularly good graphics quality—can't match that of the 7500/DN, which was top tier for photos and graphics and just short of top tier for text. The 7500/DN also has great paper capacity (600 sheets standard, plus auto-duplexer). The 7100/N did manage to edge the 7500/DN in printing speed, however.

The Dell 7130cdn, essentially the same printer as the Xerox 7500/DN except lacking natural-language color control, is a tad faster than the other two printers. Its output quality was similar to the 7100/N's, except the Xerox printed superior graphics in our testing. And it costs more than $1,000 more than the 7100/N.

Although the Xerox Phaser 7100/N can't match the Phaser7500/DN in features and output quality, you can get it for less than half the price, a bargain for a tabloid color laser printer. So while the 7500/DN remains the Editors' Choice as a high-end color laser tabloid printer, the 7100/N is a new Editors' Choice as a budget model. Not only is it cost effective, it adds good speed and output quality, and should be a welcome addition to small or mid-sized offices or workgroups looking for a color laser that can print at tabloid size.

When it comes to low-cost A3 laser printing, Oki is king of the hill – but now Xerox wants a piece of the action. The latest Phaser 7100N delivers high-resolution, large-format colour printing for less than £800. It beats Oki's C822n for speed with a faster 30ppm for colour and mono A4 prints.

Xerox doesn't quote A3 speeds, but we clocked it in the labs at 18ppm – that's 5ppm faster than the C822n. Printing costs are similar, with A4 colour and mono pages costing 8.1p and 1.8p – but check out the PagePack contracts, which offer fixed quarterly charges based on your estimated usage and cover consumables and maintenance too.

We like the new toner cartridges: they're compact, less messy than Oki's combo units, and much easier to fit. As for capacity, there's a 250-sheet tray to start with, which can expand with up to three more 550-sheet trays (£254 exc VAT each).

The 7100N performed well in our speed tests, although you have to be careful which way the paper is stacked. With the long side facing the paper path, a 30-page Word document returned 30ppm; turning the paper through 90 degrees saw this drop to 24ppm. Our 24-page DTP-style document was produced in

Standard mode at 30ppm. Changing the PostScript driver to Photo mode didn't harm speed; the time to first page for all tests was rarely more than ten seconds. Output quality won't disappoint, either. Text was pin sharp across a wide range of font sizes; mono photos delivered high levels of detail; and colour quality was exceptional, with smooth gradients across complex colour fades and no banding in photos.

The 7100N costs more than Oki's C822n, but this gets you faster print speeds and superior colour quality. With very similar running costs, we have no hesitation in recommending the 7100N as our new favourite A3 colour laser.

call us on

0800 840 1992


to find out how much you could save

Xerox PagePack

A cost-per-page you can count on.

In today's economy, everyone is looking for ways to cut costs.

For most companies the ongoing cost of office printing – cost-per-print, routine maintenance and service – is an unexplored opportunity for significant, cumulative savings. PagePack will improve productivity and your company's printing costs.

How does PagePack improve your print environment?

A fixed cost-per-page. In an unmanaged environment, every document printed uses a variable amount of ink or toner. You pay a different price for every print and the costs are unknown. Service calls are unpredictable and so are the charges. With PagePack all your variable expenses are consolidated. You pay a fixed cost-per-page that reduces overall expenditures.

Increase productivity. PagePack also saves on hidden costs, such as staff resources and prevents shortages of consumables,by simplifying ordering and vendor management. With PagePack there's no need to keep an inventory of consumables on hand.You can order them online 24/7.

Free Remote Services. With PagePack Remote Services Platform you get real-time visibility of your Xerox networked devices; Meter Assistant® automates the process of collecting and submitting meter reads for accurate billing, so you pay for what you actually use.

Low Cost Colour - Hybrid Colour PlanNow with Hybrid Printing plans you can print all the brilliant colour you need whilst keeping in full control of your costs.

If you print a lot of colour, then the Xerox Hybrid Colour Billing plan could be for you, significantly reducing your print costs by up to 50%. This billing plan is based on the actual amount of colour used - when you use less colour, you pay less, rather than the one price for a colour page that most people are used to.

We use our technology to deliver these savings to you. Solid ink printers create images by printing tiny pixel dots of black and colour ink on the page. The devices automatically count the number of colour pixels used to produce each printed page, and tally individual pages on three separate meters - Useful (spot colour), Everyday (medium colour coverage) and Expressive (heavy colour pages). So you only pay for the actual amount of colour you print. call us on

0800 840 1992

to find out how much you could save
**Page yields are declared by the manufacturer in accordance with ISO/IEC standards or occasionally estimated based on 5% per page coverage. Yields will vary greatly depending on image, area coverage, print mode and environmental conditions.
Customer Question & Answers
Can't find the answer you're looking for? Our printer experts are here to help!
Q
Can this unit print on A4 as well as A3?
A
Yes, the Xerox Phaser 7100N is capable of printing onto A4 and A3 media.
Q
Can this printer take 280gsm satin photo paper?
A
This printer will not take such heavy media. The Xerox Phaser 7500 series however will accept 280gsm media through its multipurpose tray.
Q
That kind of photographic paper is compatible with Phaser7100?
A
The Xerox 7100 will accept a variety of media types including glossy photo papers up to 216gsm
Q
there seems to be a memory upgrade option available, how would i benefit if i was to do this, would my job be processed faster?
A
Memory Upgrades are particularly useful for Colour Laser Printers, they will enable you to print much more complex print jobs and for that job to be processed at a faster speed.
Q
This is a very compact machine, will it definitely print on A3 media?
A
Yes, the Xerox Phaser 7100N (7100V_N) can definitely print on A3 media.
Q
Does this printer have a bypass tray?
A
The Xerox 7100 colour printer has a 150 sheet bypass tray on the side of the machine.
Q
Does the phaser 7100 have an in built scanner facility?
A
The Xerox Phaser 7100 colour printer is only a single function printer therefore cannot scan or copy.
Q
Does this printer do double sided printing
A
The Xerox Phaser 7100N A3 colour printer does not do double-sided printing. The Xerox Phaser 7100DN printer has double sided printing as standard.
Value...

4

Features...

4

Quality...

5

Performance...

4
Fiddly but good
I bought a Xerox Phaser 7100 for my (small) business - I needed high quality and high volume A3 and A4 printing capacity. The printer was fiddly to set up - chiefly because wifi isn't built in, but this was soon solved and it was up and running. Shame that you need to buy an additional duplex unit, but I did that as well and it works really well. Print quality is very good; speed is good although it can be a little noisy - not irritatingly however. Build quality is good and the printer looks good - a light grey with navy highlights. Running costs have been OK; cartridges are a shock when you have to renew (about £750 ex Vat) but they are high capacity and last for a long time so the print per page cost still works out well. I had to call Xerox service out once - the online experience is poor, but when the technician came out he was excellent, so it's swings and roundabouts.
Value...

4

Features...

5

Quality...

5

Performance...

5
Speedy and Compact
This printer is a great addition to a busy office - it barely takes up any room, is very easy to set up, and is so quick. The quality of the large pictures it prints is amazing. The only downside is although it has network and usb capabilities, it does not have wifi, but if this isn't needed in your office then you will love this printer.
Value...

5

Features...

5

Quality...

5

Performance...

5
Xerox 7100
I have only had this printer a short while for a replacement for an old A3 printer, So far I am very happy with the printer,output documents are superb and the colour is remarkably like picture taken, only thing that was a disappointment was the Wi-Fi connection as it is not really wi-fi but an Ethernet connection through a mains plug and a connection to my router but I dont have a spare port.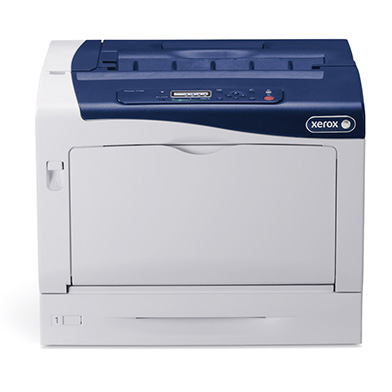 We will not be beaten on price.
We check our competitors prices every day.
We can price match on request.
Find out more