Football Frenzy will Cost British Bosses up to £2.3 Billion this World Cup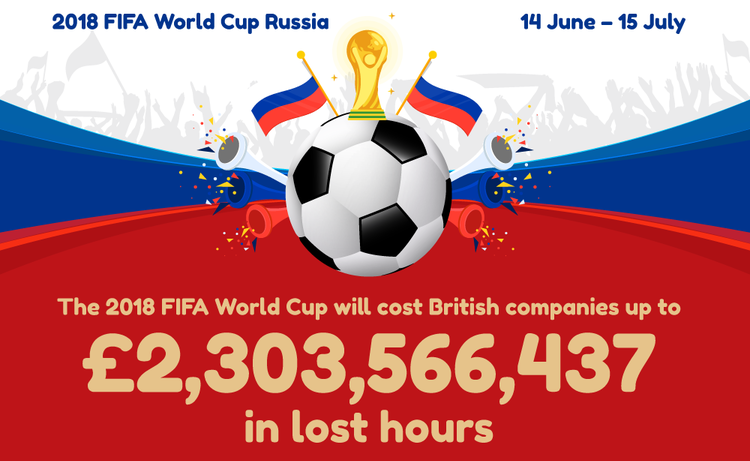 It's been long-awaited, but the World Cup is finally upon us.
And with it, the sheer determination that takes over once again, as the whole nation gears up to back Gareth Southgate's 23-man squad.
Could this be the tournament that takes away 52 years of hurt?
With the likes of Harry Kane, Raheem Sterling and Dele Alli, there's certainly plenty of reasons to think so.
And it's clear that employees across the country are already wangling ways to watch their heroes in the World Cup.
Our research has found that working football fans have tactics in place to ensure they don't miss a trick when the games begin – including calling in sick, discreetly streaming matches and keeping an eye on social media.
A staggering one million workers say they're prepared to tell porkies to their bosses – including ringing up with fake illnesses, costing employers a stonking £99,793,529 in lost hours.
Three million employees aim to keep sneaky tabs on a live stream, racking up costs to their companies of £831,612,398.
Our survey revealed that two thirds of British workers plan to watch the games but don't even follow football regularly.
Last December's draw put England in Group G with Belgium, Tunisia and Panama, with the first games currently scheduled at times which will be more pleasing for office workers nationwide.
But work is set to be a grumbling block for footy fanatics with many wanting to watch every game and it's those in the 35-44 years bracket and/or earning over £40,000 who are most likely to follow the competition.
Our poll showed that some staff bagged dates off work the moment that fixtures were announced, with others frantically trying to swap shifts.
Only a third of managers have agreed to screen matches that fall during working hours but those less daring (19%) aim to take strategically-timed lunch breaks to allow them to catch a glimpse of the action.
And when it comes to who they're following, there's certainly some love for our home nation.
England came out most popular team to follow, despite a fifth of those polled claiming they wouldn't be cheering for The Three Lions.
Our research showed that 39% men favour watching Brazil, while it's Germany (22%) holding the attention of British women.
The next most popular teams are Spain (26%) and France (23%).
But for some, looking after children (14%) and complaining partners (11%) get in the way of TV time.
Its northerners set to be most distracted, with three quarters of North West workers keeping track of the competition, while a third of those in Yorkshire plan to watch every single match, regardless of the time they're shown.
With three quarters (72%) of the nation's workers set to watch the final, there's no doubt that the World Cup will dominate the water cooler talk across offices this summer but it's important to make sure the impact on productivity is minimised.
Being too strict with staff could make them more likely to commit the workplace offences our research uncovered.
Instead, bosses should look to compromise with their workers, perhaps by setting up a TV in the break room for staff to watch on their lunch or better still, agreeing to host a World Cup after-work party!